Are You Going to IHRIM?
OCI is packing our bags for the upcoming IHRIM Conference in Chicago, IL!
IHRIM's 2012 HRMS Strategies Conference and Technology Expo is taking place April 30 - May 3rd at the Hilton Chicago in the Windy City. OCI is pleased to participate for the second year in a row as an exhibitor in the Technology Expo.
IHRIM promises a packed schedule of HRMS education, information and networking events. The conference allows attendees to learn about and discuss solutions available surrounding issues that HR and HR system professionals face today and challenges they will likely face in the future.
To read more about IHRIM's 2012 HRMS Strategies Conference click here.
Stop by OCI's Booth #322 to discuss our solutions for HR professionals. Also, keep an eye out for OCI's iPad giveaway during the raffle drawing.
To sign up for a demo during the IHRIM Conference, click the button below and a Sales Rep will contact you within 48 hours. If you need to speak with someone today, please call (800) 678-6613.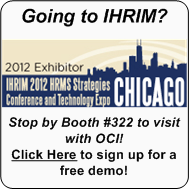 OCI will be at Louisiana SHRM April 26-27 in New Orleans. We'll also be attending the Gulf Coast Symposium May 9-10 in Houston, TX.