Claim View: A Hands-on, Real-time Approach to Employee Claims Data and Every Return-to-work Process
Claim View, powered by the Optis Insights HR data warehouse platform, lets you integrate all of your disparate claims data into one location and get real-time access and management capability. You get a complete picture of your claims data and the ability to manage all of your return-to-work processes in real time.

100%
configurable data points per view, per claim
Optis Insights Claim View Delivers Comprehensive Claims Information in Real Time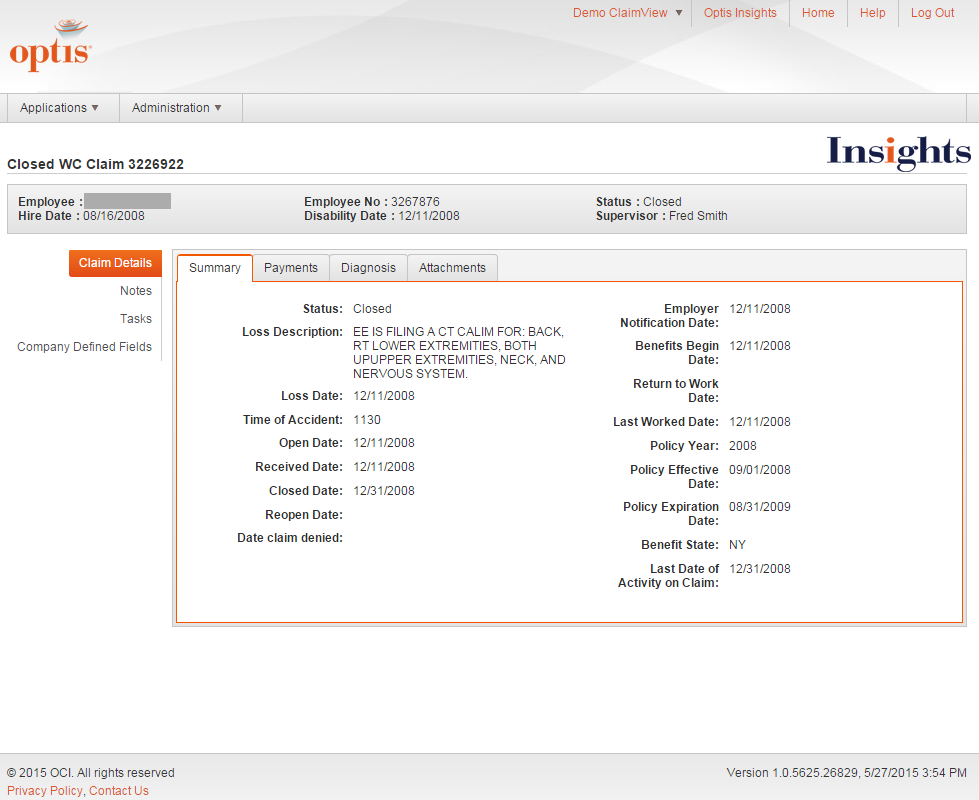 Fast, Accurate, Secure, and Affordable Data Conversions
Getting a complete picture of your claims data may feel like an insurmountable challenge. Claims are frequently managed in siloed departments and with multiple vendors. It can be difficult to integrate different types of data in a central location, not to mention access and manage that data in real time.
Claim View transforms your wealth of claims data into meaningful, useful information that's understandable and actionable. The end result: a more efficient process than ever for claims management and your return-to-work process.
Claim View has an intuitive interface. And being powered by the Optis Insights platform, Claim View can dig deep into your people data and draw out the information you need in real time.
Start getting the big picture of your claims data today, and get the information you need to maximize the efficiency of your return-to-work program.
Capabilities include:

Immediate access to employee information and claims history
Comprehensive claims summary information — including payments and diagnoses

Documentation of claims notes by your internal team
Ability to schedule follow-up reminders

Configured user security for tiered access to claims information
See All of the Features at a Glance
See which version of ADAInteract is best for your company.
Stay on Top of Productivity and Compliance — Understand Leave Usage in Your Company
Learn three steps to better manage employee leave and greatly improve your leave management and compliance.
Learn More About Optis Insights
Learn how Optis Insights can mitigate risk and give you greater insight into data from all of your HR data systems.