People Data in Your Business
Harness Your People Data, Make Better Business Decisions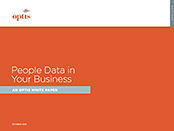 Better insight into people data leads to better business decisions.
This white paper from Optis explains how four best practices can help you become people-data strategic and make your disparate data easy to see, understand, and control.
Start simply
Establish baselines
Develop iteratively
Adapt by updating previously created metrics and reports
Download "People Data in Your Business" to see how you can create cost-saving employee benefits programs, reduce lost productivity, identify absence trends, and ultimately make better business decisions.