Stay On Top of Productivity and Compliance — Understand Leave Usage in Your Company
Get a Handle on Your Leave Usage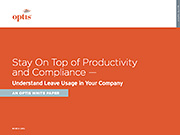 Managing absence is challenging. But with a better handle on your leave data, you can save administrative time, reduce expenses related to leave and absence, and prevent productivity drain.
This white paper from Optis identifies three steps for doing just that — and for greatly improving your leave management and compliance:
Organize your leave types
Keep leave documented
See the trends
Download "Stay On Top of Productivity and Compliance — Understand Leave Usage in Your Company" to see how you can get a handle on the types of leave your employees use and match that use to the costs your company is incurring.