Solving the Puzzle of Leave Management
A Survey by Optis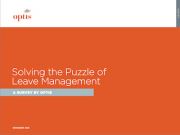 Ever-changing employee leave laws and types of employee leave have created a complicated puzzle with a lot of pieces for HR to fit together. To better understand the puzzle of leave management facing HR professionals today, Optis went directly to the source: the HR professional.
We surveyed 179 visitors to the Optis booth at the Society for Human Resource Management (SHRM) 2012 Annual Conference & Exposition in Atlanta, Ga. We asked employers:
What their top concerns were
How they received information about leave
How much employee absences cost their organization
Download "Solving the Puzzle of Leave Management" to find out what we learned and why a comprehensive leave management system is crucial for getting a handle on the types of leave your employees use and being able to match that information to the costs of leave at your company.