Improvement Strategies for Disability Plan Performance
An Optis Analytics Study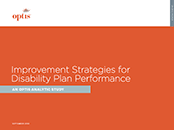 Many employers today lack the data and analytic expertise to determine whether specific changes to their disability plan and related benefits would actually cut costs.
This study from Optis reviews various benefits plan designs to determine which elements have the most significant impact on costs, and which conditions or types of injuries are most affected by changes in plan design.
In the end, Optis answers this question: What changes should an employer consider making to its benefits plans to reduce claims and improve the bottom line?
Download "Improvement Strategies for Disability Plan Performance" now. Learn what has the greatest impact on the cost of disability programs, and why a comprehensive leave management system is necessary to getting a handle on the types of leave your employees use — and being able to match that information to the costs of leave at your company.