Cost Savings Impact & ROI of LeaveXpert®
An Optis Analytics Study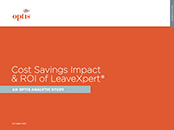 As the economy has shifted since 2008, the need for an organized approach to absence management has become even more important. In response, Optis conducted an analysis to determine whether an absence management system is worth a company's investment.
We studied one employer's absence management evolution over three discrete time frames:
When the employer used no absence management program at all
After the employer had implemented a basic absence management program
After the employer had implemented an automated, integrated absence management system
The results were conclusive: The savings realized through the use of an absence management system can more than justify what is often characterized as a substantial investment.
Download "Cost Savings Impact & ROI of LeaveXpert®" to see exactly how a comprehensive total leave management system can pay for itself and cut costs by helping you get a handle on the types of leave your employees use and matching that data to the cost of leave at your company.