The Land of Unusual Leaves — It's a Jungle Out There
What you don't know could hurt you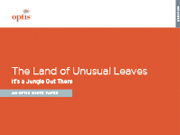 Staying on top of your state's leave documentation can be time-consuming for HR and employees, especially if you're using a manual process. The paperwork alone is daunting. And with so much at stake, you need to know the lay of the land.
You'll learn how to navigate the land of unusual leaves, including how to lower your risk against:
Noncompliance under the FMLA and state laws
Productivity loss
Employee disengagement
Download our white paper, "The Land of Unusual Leaves — It's a Jungle Out There," and consider it your handbook for managing the complex leave laws in your state.